Zombie Halloween
is the first book in the
Goosebumps Most Wanted: Special Edition
sub-series. It was published in
2014
.
The cover art shows zombies leaving an abandoned house.
Blurb
What Happens to This House on Halloween?
Kenny Manzetti was the new kid in town. His family moved back in to an old house to help take care of his grandfather. Everyone in his new neighborhood is obsessed with zombies--even Grandpa Mo. But then a new family moves in next door and their choice in furniture is...interesting.
Kenny is convinced that there is something strange about the new neighbors, but his parents won't listen to him. So Kenny and his friends go in for a closer look. A bad idea on any day, but definitely the wrong choice around Halloween. Will Kenny survive long enough to go trick or treating?
Artwork
International releases
No.
Book
Country/Language
Translated title
Release date
Publisher
1

좀비 핼러윈 파티

---

South Korea

---

Korean

Zombie Halloween Party
October 29, 2015
Gorilla Box
6

حفلة الزومبي

---

Egypt

---

Arabic

The Zombie Party
January 2017
Nahdet Misr Publishing
Pre-release cover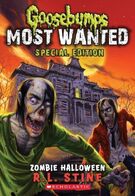 The pre-release cover originally had the "SPECIAL EDITION" text underneath the Goosebumps Most Wanted logo. Additionally, the artwork was more zoomed-in and the "R.L. STINE" text was red instead of orange.
Trivia