Hi guys, Murder here! In a similar way to how GbA announces the avatars he makes to himself, I am here to show you the one I made for me. Hope you like it! I decided to change my avatar every 20 days. Of course, this schedule can be broken sometimes for any reason, such as my computer getting broken or something like that. However, I'll try to accomplish this as much as I can.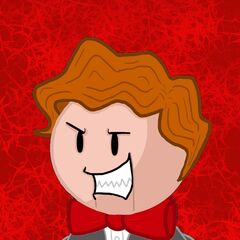 I decided to change the art style a bit, this time I made it a bit more cartoony and simple, kinda similar to the YouTuber TheOdd1sOut. I liked the result, so my future avatar may be similar to this :)

If you have any idea of what should my next avatar be, let me know! Here are my ideas so far:
Murder the Clown (I have the avatar ready XD)
The Scarecrow
The Mummy (I do not want to copy GbAs old avatar, so I have to ask him first)
Lord-High Executioner
The Old Man Mask
The Snowman
The Invisible Boy (hahaha JK)
Community content is available under
CC-BY-SA
unless otherwise noted.