Revenge of the Wax Figures
This is the cover I drew for this book: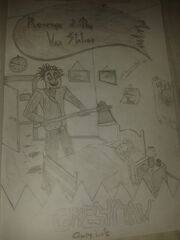 Plot: George Wright loves wax figures, so he has a collection of 12, that he keeps on his basement. His son, Josh, loves to write stories about these creepy statues. But when the 13rd wax figure is owned by George, strange things begin to happen. First, the bathroom floor and walls, filled with peanut butter. Then, Kormy, Josh's terrier, gets sick, after someone gives him some kind of poison. At first, Josh thinks that his brother did those horrible things. But then, Josh finds drops of melted wax on the floor. No way a bunch of wax figures can come to life, right?
Community content is available under
CC-BY-SA
unless otherwise noted.