I only got two items, but they're both super cool, and I have to share them.
The first one is the original print of The Barking Ghost. Nothing too special. But... when you open the book, you're greeted by this cool Goosebumps calendar poster! Here's an image of it from the original listing: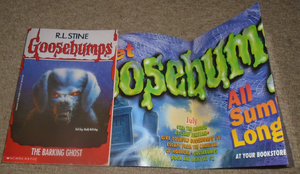 It's pretty rare to find the original books with trading cards inside, let alone posters, so I'm very glad to have it!
Next up is something pretty amazing:
Even More Tales to Give You Goosebumps in its original packaging, and it's sealed! I was planning on purchasing this a few weeks ago, but someone bought it before I could. I was pretty disappointed, as the price was good (40 bucks + free shipping). However, about a week ago, it resurfaced again and for the same price. Which I thought it was odd, but hey, I'm not complaining.
There's not much else to say about it. I'm just glad to own this very rare item sealed in its original packaging. And no, I don't plan on opening it.
Community content is available under
CC-BY-SA
unless otherwise noted.