I got the movie novel and Slappy's Return, and they're awesome, I am now excited for this film and you may like it too, also, out of all the scenes in the movie novel, the gummy bears only appear in ONE SCENE! So for those who do this, please stop judging the film off of that one scene, that's like throwing away an entire carton of Strawberries because only one of them is rotten! Anyway, the main reason for this blog, check out this image from Slappy's Return: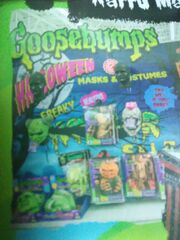 In this picture we see:
Curly the Skeleton
Pumpkin head
Scarecrow
Mummy
Horrorland Horror
The Haunted Mask
We also see more masks with The Haunted Mask advertised, so that most likely means that the green old man on the poster is the mask from The Haunted Mask II!
This is Awesome! #Goosebumps2movie
🎃🎃🎃🎃🎃🎃🎃🎃🎃🎃🎃🎃🎃🎃🎃🎃
Community content is available under
CC-BY-SA
unless otherwise noted.