Hey Goosebumps Wiki!
I've been looking through some Goosebumps Series 2000 articles, and I've noticed that some of the original cover images are considerably low in quality. So, I've been restoring some 
Series 2000 
covers in photoshop and was wondering if the wiki could use them. Here are some examples -->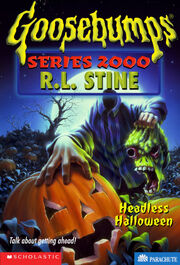 If they're any good, I would be happy to switch the old images with new high quality ones. I'm aiming to get new versions of Revenge R Us, Attack of the Graveyard Ghouls, Brain Juice, The Mummy Walks, The Werewolf in the Living Room, The Haunted Car and any other covers that don't quite look up to scratch.
Since I'm just starting on Goosebumps Wiki, I'm not familiar with your copyright rules for image use, so I'm not sure if you'd be able to use them in articles. But if you are, and you'd like me to restore more covers, let me know.
Thanks for any response!
Community content is available under
CC-BY-SA
unless otherwise noted.