I'm NOT an active moderator
---
- I used to be an Admin here, but I retired in early 2021.

- I requested Moderator rights afterwards to update protected templates and the homepage.

- I'm not here to help you with any issues you have; contact the other mods for that.

- I hate stacking pancakes because it's stupid.
Be prepared to witness some of the most unpopular opinions ever shared on this Wiki.
(I ❤ Chicken Chicken, and you should, too.)
I also believe stacking pancakes is stupid.


      W e l c o m e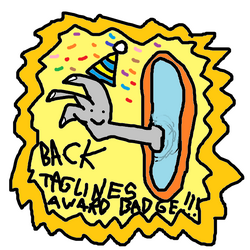 ∙∙·▫▫ᵒᴼᵒ▫ₒₒ▫ᵒᴼᵒ▫ₒₒ▫ᵒᴼᵒ - ᵒᴼᵒ▫ₒₒ▫ᵒᴼᵒ▫ₒₒ▫ᵒᴼᵒ▫▫·∙∙
I'm honored to having the following legendary quote immortalized in GbA's Quotebook: "my life hurts."
"Like, come the hell on, you just want to kill a dog at this point. Who are you? R.L. Stine?"
- ThatRetro



"Stine will go nuts if he finds out we've been using his characters as our profile pics (and my username won't help if I try to argue about it)."
- Murder the Clown



"Your younger brother, R.L., smells your mother's cool genie and sells it to fuel their book addiction."
- GodzillaFan1


"QUICK, GRAB HIS NUTS!
🥜🥜🥜🥜🥜🥜"
- GodzillaFan1