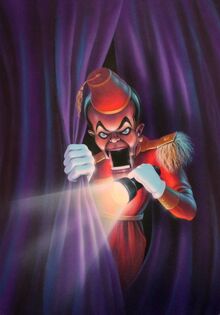 Before I start, I only wanted to warn you because of the possible grammatical/orthographic errors in my profile. The reason is, I'm Portuguese, so I can't speak English as well as you guys. So if you spot any errors, you are allowed to edit my profile, and I will thank you. Please edit it only to correct mistakes.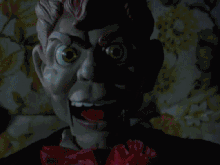 Me
Hiya, I am Murder the Clown (just call me Murder or MtC, but if, for some reason, you prefer to call me "Mister Pickle", it's okay as well). I'm 17 years old and I live in Coimbra, Portugal. When I was five or six years old, I was at my grandma's house when I found two Goosebumps books, that belonged to my aunt when she was younger. Those were My Hairiest Adventure and The Cuckoo Clock of Doom. I asked my grandma and she said that I could read them. I started to read My Hairiest Adventure and I have to admit it, I read the WHOLE book in that afternoon. I just got obsessed with the story, and that night, I started reading The Cuckoo Clock of Doom. I loved them books so much, I asked my grandma if I could take them to my house, and she said yes. I've been a huge Goosebumps fan ever since, and Stine's books have inspired me to become a writer or book illustrator when I grow up.
Books I've read, and books I own
Click to
I wish I could live in the USA because, here in Portugal, of all the Goosebumps books that have been written, only 58, ONLY FREAKIN' 58 books were translated. It's VERY hard to buy the other goosebumps books online, because of the shipping and that stuff.
Ok, so...
LIST OF GOOSEBUMPS BOOKS I'VE READ:
1-10 + Sp. Edition 2
(Yes, I've read only a few Goosebumps books) : (
Now...
LIST OF GOOSEBUMPS BOOKS I OWN:
Note: the books from the Original Series that I will mention are the PORTUGUESE releases, except for Welcome to Dead House, which is the UK release.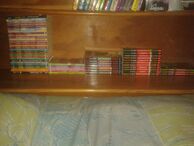 Be Careful What You Wish For...
Deep Trouble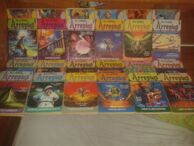 The Scarecrow Walks at Midnight
It Came from Beneath the Sink!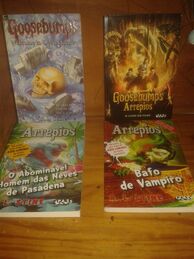 The Abominable Snowman of Pasadena (Classic Goosebumps reprint)
Vampire Breath (Classic Goosebumps reprint)
Escape from the Carnival of Horrors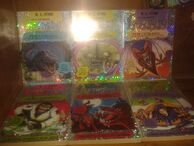 The Deadly Experiments of Dr. Eeek
Beware of the Purple Peanut Butter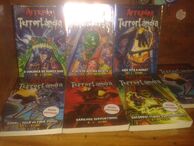 The Scream of the Haunted Mask
Say Cheese... and Die Screaming!
The Birthday Party of No Return!
Planet of the Lawn Gnomes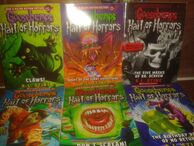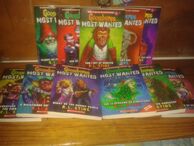 Creature Teacher: The Final Exam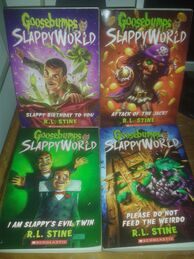 Special Edition: The 12 Screams of Christmas
Books I Didn't Read
This is a list of Goosebumps books I've never read. I'm not counting with spin-off series.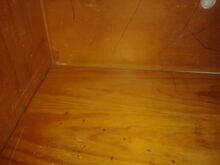 Goosebumps Series 2000: Every single one, except for the numbers 7, 12, 18 and 24.
Goosebumps Wanted: The Haunted Mask
Goosebumps Most Wanted: Sp. Edition 1, 3, 4
Total of Goosebumps books I've never read: 33
(Not bad, but could be better)
My drawings
I think one of my favorite hobbies is drawing. I just love to do it. Here are some of my drawings. Hope you enjoy!
Random Goosebumps stuff
Past Avatars
Special Editions
Important/Cool blog posts
Rating all Most Wanted covers!
Rating all SlappyWorld covers!
Speculation about the next Goosebumps series.
My thoughts on the Korean Goosebumps covers.
Speculation about the next SlappyWorld book.
Other Interests
Best book series
The following book series are not in any order, they're just some of my favorites.
Diary of a Wimpy Kid
Fear Street
The Nightmare Room
Best TV shows
The following TV shows are not in any order, they're just some of my favorites.
Rick and Morty
Stranger Things
The Good Place
La Casa de Papel (aka Money Heist)
Survivor
The Twilight Zone
Youtube and Comedy
The following comedians or YouTubers are not in any order, they're just some of my favorites.
GradeAUnderA (British YouTuber)
Cellbit (Brazilian Youtuber)
Pedro Teixeira da Mota (Portuguese Comedian)
Rui Sinel de Cordes (Portuguese Comedian
Chris D'Elia (American Comedian)
Bruno Aleixo (Portuguese character from a YouTube video series)
Music
The following musicians/bands/singers are not in any order, they're just some of my favorites.
Jack Stauber
Nickel Creek
Slow J (Portuguese rapper/singer)
Dillaz (Portuguese rapper)
Smash Mouth
Trampled by Turtles
The Devil Makes Three
Chris Thile
Blues Traveler
Red Hot Chili Peppers
Nirvana
Blonde Redhead
Rag'n'Bone Man
Cage the Elephant
Joji (aka Pink Guy)
The Strokes
Community content is available under
CC-BY-SA
unless otherwise noted.