I'm sorta retired.
Questions or formatting requests should be taken to other admins, the forums, or any reputable users.
If you wish to report vandalism, here's a detailed guide of what to do.
If there's an emergency ⁠— or maybe you just want to talk ⁠— email me. I should get a notification. (Please be considerate with this feature.)

Hey guys! I'm GoosebumpsArt (but you can call me "GbA" or "Bart" if you want to). I've been a huge fan of Goosebumps since I was just a kid, and I have been surfing this wiki for a long time. In early 2016, I decided to start contributing here because I wanted to help this site stay relevant and up-to-date. In just a few years, I witnessed many lovely changes.
In early 2020, after some very tough thinking, I made the decision to lite-retire. I won't be deactivating my account, deleting my work, or demoting myself anytime soon. I may even keep responding to messages and blogs. However, I will be taking longer breaks and likely won't be editing articles much in the foreseeable future. I have faith in all of you!
Thanks for stopping by. Thanks for the memories. Happy editing!
Contact: GoosebumpsArt@mail.com
Sandbox • Toolbox • Quotebook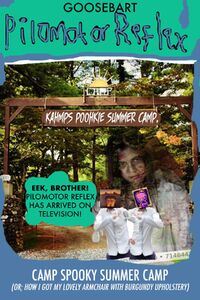 My Favorite Goosebumps Books
These are the ten books I enjoyed reading the most or that I'm nostalgic for.
My Favorite Goosebumps Covers
These are the books that I think have the best cover art.
 The 9 Worst Books
Goosebumps definitely had some questionable moments...
The following books are the ones that I personally thought were the worst, so I'm sorry if you don't completely agree with my choices. (List arrangement; #1 is the worst.)
Community content is available under
CC-BY-SA
unless otherwise noted.