Hey guys! I'm GoosebumpsArt (but you can call me "GbA" if you want to). I've been a huge fan of Goosebumps since I was just a kid, and I have been surfing this wiki for a long time. In early 2016, I decided to start contributing here because I wanted to help this site stay relevant and up-to-date. In the few years I've been here, I've seen many lovely changes.
Now, I'm far from perfect. Sometimes, I can be a stickler for the rules, and I'm not above the occasional typo. However, I try to always be constructive and fair. Thanks for stopping by, and happy editing!
Contact: GoosebumpsArt@mail.com
(Leave a message on my wall after sending an email.)
Sandbox • Toolbox • Quotebook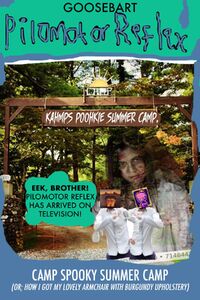 My Favorite Goosebumps Books
These are the ten books I enjoyed reading the most or that I'm nostalgic for.
My Favorite Goosebumps Covers
These are the books that I think have the best cover art.
 The 9 Worst Books
Goosebumps definitely had some questionable moments...
The following books are the ones that I personally thought were the worst, so I'm sorry if you don't completely agree with my choices. (List arrangement; #1 is the worst.)
Community content is available under
CC-BY-SA
unless otherwise noted.