---
Navigation:
---
The Haunted School is the fifty-ninth book in the original Goosebumps book series. It was first published in 1997.
The cover illustration shows a locker with black and white objects falling out and three pairs of eyes peering out of it. A skull that heavily resembles Curly the Skeleton can be seen on the blue poster attached to the locker door. This is the last book to feature the original Parachute Press logo.
Blurb
HE'S HEARING VOICES... FROM ANOTHER WORLD!
Tommy Frazer's dad just got married. Now Tommy's got a new mom. And he's going to a new school—Bell Valley Middle School. Tommy doesn't hate school. But it's hard making friends. And his new school is so big, it's easy to get lost. Which is exactly what happens. Tommy gets lost—lost in a maze of empty classrooms. And that's when he hears the voices. Kids' voices crying for help. Voices coming from behind the classroom walls...
Plot
When 12-year-old Tommy Frazer moves to a new town and begins attending a new school, he decides to help decorate for the upcoming school dance in order to meet people. Thalia Halpert-Rodis, a beautiful, kind, blonde-haired girl who always wears a lot of makeup and red lipstick who is also working on the dance, requests red paint and Tommy offers to get it for her. Along the way he hears a voice, but nobody is there. He meets a tall girl with eerie, gray eyes named Greta while on his way back to the gym. He also gets lost and stumbles across a room marked "The Class of 1947". Inside are statues of twenty-five children; the principal appears and explains that these statues are in memory of the twenty-five children of 1947 who mysteriously disappeared after getting their class picture taken.
On the night of the dance, Tommy and his friend Ben Jackson need to fix a banner. While searching for needed materials, they find an elevator. They start pressing buttons, but the elevator doesn't move. They look of a 'Door Open' button, but they cant find one. The see a button that they think might open the doors. Once they press it, nothing happens. Then they see a red button, which they push. But, instead of an alarm going off, they see that the elevator is not going sideways. This transports them to a classroom in Grayworld, a place where everything is in black and white. Here they meet Seth Cortez and his friends, Eddie, Mona, Eloise, and Mary who became a few of the members of the Missing Class of 1947 who have not aged even after all that time. Seth tells them the story of how a photographer named Mr. Chameleon sent them to this colorless world with his camera, during the class photo. Everyone transported to this world and gradually lost their color.
Tommy and Ben decide to investigate the world outside of the school, although Seth warns that his remaining classmates had gone crazy years ago and now roam the outside land as savages. Seth and his friends remain in the school, because it is the only place they consider safe from their former friends. Ben and Tommy leave through the classroom window into the town outside. There, they get attacked by the other members of the class of 1947, who perform strange rituals involving a pool of steaming black goo. Angry that Tommy and Ben still have color, they want to turn them into "one of them" by dumping them into the goo pool.
Seth and his friends save Tommy and Ben at the last minute, and Tommy manages to distract the kids with the light from a lighter his grandfather gave him. They return to the classroom, and as Tommy and Ben try to figure out how to escape, Seth informs them that only one girl has ever escaped and no one knows how. Tommy thinks that it must have been Greta, the girl with the gray eyes he saw at school. Tommy remembers how the lighter still had light and tries to use it to somehow escape, but the flame is now colorless as well. Suddenly the elevator opens and Thalia appears, surprising everyone. Seth and the others are excited to see her and already know her name. It turns out Thalia is the aforementioned girl who managed to escape the gray world.
Thalia explains to her friends how she opened her tube of lipstick one day and got excited after discovering that it still had color. She hadn't seen color in so long, she tried to draw on the wall to make colorful pictures. But when her lipstick touched the wall, it made an exit into the real world. Thalia immediately went through it without thinking and the hole instantly closed, before she could go back for the others. She had tried to make another hole but the lipstick was only ordinary in the real world.
Though she was back in the real world, Thalia also discovered she was still without color, and she hid this condition by constantly putting on makeup. Not knowing what else to do, she had stayed around the school looking for a way back into Greyworld to save her friends. Now, after being in the real world for a while, she decides that both she and her friends are better off in Grey World. Using her lipstick, she opens a doorway for Tommy and Ben to escape while she and her friends stay behind.
Tommy and Ben flee and return to the gymnasium. When Tommy and Ben come back, they see their classmates standing in a settled position and they run and join them. The principal tells Mr. Chameleon to take their picture. Tommy protests but the picture is taken.
Reprints and rereleases
This book is currently the final book in the original series to receive a physical reprint; the remaining books in the series would receive digital reprints. A reprint based on the original print was included in the Retro Fear Collection in September 2020. It drops the page count from 120 to 117 pages.
The 2015 ebook updates Mrs. Borden saying the Class of 1947 vanished 50 years ago, to 70 years ago. In addition, a reference to a boombox is removed. A kid pulling one out is changed to them just turning on some music. And finally, Polaroid is changed to simply a camera.
International releases
No: N/A
Title: مدرسه جن زده
Translated title: School Elf
Country: Iran
Language: Persian
Release date: June 1998
Publisher: Genesis
No: 59
Title: The Haunted School
Country: United Kingdom
Language: English
Release date: July 17, 1998
Publisher: Scholastic
No: 57
Title: La Escuela Embrujada
Translated title: The Haunted School
Country: Spain
Language: Spanish
Release date: May 15, 1999
Publisher: Ediciones B
No: 47
Title: L'école hantée
Translated title: The Haunted House
Country: France
Language: French
Release date: June 15, 1999
Publisher: Bayard Poche
No: 59
Title: La scuola maledetta
Translated title: The Cursed School
Country: Italy
Language: Italian
Release date: August 1999
Publisher: Mondadori
No: 34
Title: Die Geisterschule
Translated title: The Ghost School
Country: Germany
Language: German
Release date: August 1999
Publisher: Omnibus Verlag
No: N/A
Title: Klassfotot
Translated title: Class Photograph
Country: Sweden
Language: Swedish
Release date: August 2001
Publisher: B Wahlströms
No: N/A
Title: مدرسةالأشباح
Translated title: The House of the Dead
Country: Egypt
Language: Arabic
Release date: N/A
Publisher: Nahdet Misr Publishing House
'No: N/A
Title:is Hantu Penunggu Sekolah
Translated title: School Waiting Ghosts
Country: Indonesia
Language: Indodesian
Release date: August 24, 2015
Publisher: Gramedia Pustaka Utama
No: 27
Title: 我的新家是鬼屋
Translated title: Campus Ghost
Country: China
Language: Chinese
Release date: May 28, 2016
Publisher: Shang Zhou Publishing
No: 7
Title: Drauga-skólinn
Translated title: Ghost School
Country: Iceland
Language: Icelandic
Release date: November 2018
Publisher: Bokabeitan
Gallery
Trivia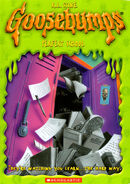 References in other Goosebumps media
The book's cover was scripted to appear in the first Goosebumps film as part of the opening credits, as revealed in one of the script drafts for the film.
Goosebumps HorrorTown has an event based on this book.
References