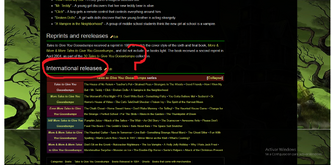 I know it will sound strange but ... am I the only one who can not see the International Releases? 
ErnestoCabral2016 (talk) 23:15, September 20, 2017
You're also missing the reprint's gallery. Possible causes:
Does your computer not have Javascript?
Are you running any ad-blockers?
That's all that I can guess. Sorry to hear your page is wonky. GoosebumpsArt (talk) 04:24, September 21, 2017 (UTC)
Yup, pages acting wonky for me as well. Tabbers refuse to show up for me on articles, and in the editor. I have no idea what's going on. Goddy (Talk) 09:21, September 21, 2017 (UTC)
Community content is available under
CC-BY-SA
unless otherwise noted.