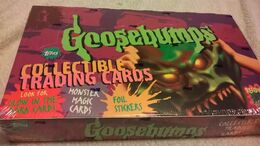 There have been several different iterations of Goosebumps trading cards. Some trading cards were features inside of books in the original series, but many sets were sold as separate promotional material.
Trading card descriptions
Book trading cards
see full article: Goosebumps (original series)/Tear-outs
Starting with the fortieth book, Night of the Living Dummy III, the original Goosebumps series started including trading cards in the middle of the books. There would be two cards with characters from that book and the following book, as well as a bookmark inside. These cards were only featured in the original series and were never officially released elsewhere.
Topps collectible trading cards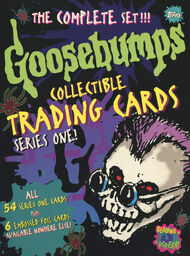 Topps released a series of trading cards in 1996. The cards came in the following varieties: 
| Cards | Number | Total |
| --- | --- | --- |
| Story Cards | #1-36 | 36 |
| Puzzle Cards | #37-45 | 9 |
| TV Cards | #46-54 | 9 |
| Monster Magic Cards | #M1-M6 | 6 |
| Glow-in-the-Dark Cards | #G1-G6 | 6 |
| Foil Embossed Cards | #1-6 | 6 |
| Foil Stickers | #1-6 | 6 |
The Monster Magic cards, Glow in the Dark cards, and Foil stickers were the rare chase cards in the series and were heavily promoted on the packaging. Art for the story cards were provided by Walter Velez, David Chelsea, Wayne Murray and Zina Saunders. The cards were sold in separate packs, along with complete card sets. The cards were also given away at Discovery Zone as part of a brief promotion. The art for the cards would also be used for the 1996 Merlin sticker set.
Topps was in development of a second series of Goosebumps cards for a fall 1996 release and would have featured more story cards for books including Go Eat Worms!, but the series was cancelled without any explanation. Only one promotional card was released. 
Frito-Lay glow-in-the-dark cards
Various packaging of Frito-Lay products included information for a mail-in offer to receive a total of eight Glow-in-the-Dark cards (not to be confused with the Topps glow-in-the-dark cards). When arranged correctly, the back of the eight cards formed a single image.
Goosebumps Dead of Night for Nintendo Switch is already available on the Switch eShop. The retail version, released in October 2020, includes a set of exclusive Goosebumps trading cards based on the game's loading screens.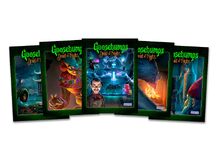 Packaging and promotional
Topps card gallery
Promotional
#1-36 story cards
Card backs
#37-45 puzzle cards
Card backs
#46-54 TV Cards
Card backs
#M1-6 Monster Magic
Card backs
#G1-6 glow-in-the-dark cards
Card backs
#1-6 foil stickers
Card backs
Frito-Lay glow-in-the-dark trading cards
Original series tear-out trading cards
Fox Kids Magazine trading cards
Most issues of Fox Kids Magazine included a set of four trading cards for a current popular franchise. The Autumn 1997 issue included four Goosebumps trading cards based on the Goosebumps TV show airing on Fox Kids Network.
Trivia
See also