The Goosebumps Original Motion Picture Soundtrack is a CD that features music from the movie Goosebumps. The score is composed by Danny Elfman, and was released on Google Play and iTunes October 9, 2015. It was released physically on CD and Vinyl on October 23, 2015 by Sony Classical and Madison Gates Records.
Track listing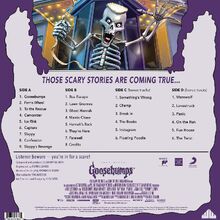 #

Song Title
Length
1
Goosebumps
2:11
2
Ferris Wheel
4:44
3
To the Rescue
1:16
4
Camcorder
1:38
5
Ice Rink
4:01
6
Capture
1:12
7
Slappy
1:48
8
Confession
2:05
9
Slappy's Revenge
1:43
10
Bus Escape
1:55
11
Lawn Gnomes
2:52
12
Ghost Hannah
0:55
13
Mantis Chase
2:19
14
Hannah's Back
2:42
15
They're Here
2:30
16
Farewell
5:28
17
Credits
2:05
18
Something's Wrong (Bonus track)
0:55
19
Champ (Bonus track)
1:18
20
Break In (Bonus track)
1:30
21
The Books (Bonus track)
4:25
22
Instagram (Bonus track)
1:47
23
Floating Poodle (Bonus track)
1:09
24
Werewolf (Bonus track)
3:17
25
Lovestruck (Bonus track)
1:00
26
Panic (Bonus track)
2:48
27
On the Run (Bonus track
0:58
28
Funhouse (Bonus track)
3:32
29

.

The Twist (Bonus track)
0:22
Tim Jacobus' message
The Curly edition of the vinyl soundtrack comes with a message written by Tim Jacobus. Here's what it says:
I am a fifty-six year old man who paints pictures of monsters. The absurdity is not lost on me.
Goosebumps has been a part of my life for more than twenty years. I never would have suspected what would unfold when we did that first cover in 1991. Painting book covers was what I really wanted to do. I had worked with Scholastic Publishing for a few years on an array of different projects. Different authors. Different subject matters. Always fun.
Then, Goosebumps came along. I really didn't know that much about R.L. Stine nor who he was. It was probably for the best. Otherwise, I might have chocked on my first assignment! I wasn't the only choice of artist for the series. I did Book 1: "Welcome to Dead House" and a different illustrator did Book 2: "Stay Out of the Basement". I was told they liked my style because of my use of rich, vibrant colors. The covers for "Monster Blood" and "Say Cheese and Die" followed. I had never worked on a series that had gone longer than four books, so, I believed that was the end... I couldn't have been more wrong.
Goosebumps were the greatest visual stories. I would read a short summary of the book before I created the covers. They were always so much fun. Every story was creepy, but they had an element of humor. Every book was so different. New characters. New monsters. R.L. Stine made my job easy. I could "see" the finished images as soon as I read them.
The series rolled on like a runaway train for nearly ten years. I got a chance to create over 100 Goosebumps paintings. It was always fun, and I enjoyed the last one as much as the first.
Here we are in 2015, Goosebumps is still alive and well. I can't tell you how much that blows my mind. With the release of the new Goosebumps movie, I have been asked to create a few more new Goosebumps images. It's like visiting old friends... Old, ugly, scary-ass friends!
Thank you to all of you Goosebumps fans. It has been a great ride!
Tim Jacobus
September 13th, 2015
Trivia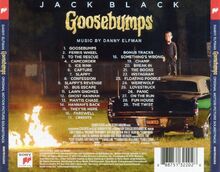 The longest song is "Farewell", at five minutes and twenty eight seconds, while the shortest song is "The Twist", at only twenty two seconds.
All songs on this soundtrack are completely instrumental, making it an "All score album."
The music on this soundtrack is not played in the order that they are heard in the film. The correct order would be: 17-4-2-3-18-19-20-21-5-6-22-7-11-9-23-13-24-25-12-27-8-15-26-10-28-16-14-29-1.
The Curly version of the vinyl record features a back cover tagline, which reads "THOSE SCARY STORIES ARE COMING TRUE..." This is a reference to the original back cover tagline for Welcome to Camp Nightmare, which reads "THOSE SCARY STORIES ABOUT CAMP ARE ALL COMING TRUE..."[1]
Sample tracks
References