Goosebumps Fast Food Toys
were sold at Taco Bell in 1996, 1997 and 2009, Pizza Hut in 1997, Wendy's in 2006, and Del Taco in 2015.
Taco Bell (1996)
Four plastic toys were made:
SkullMobile - Curly has the coolest skull! Roll him around and watch his glow-in-the-dark eyes and teeth come to life!
Cuddles the Horrible Hamster - Turn the horrible hamster inside-out to see his icky, glow-in-the-dark insides covered with Monster Blood!
Wrappin' Mummy - With a pull on his wrapping, give creepy old Prince Khor-Ru the ride of his life and watch him glow-in-the-dark!
Slappy's Candy Keeper - Slappy's the dummy with the yummies. He'll give you candy with a twist! Watch for his glow-in-the-dark eyes and teeth.
Taco Bell (1997)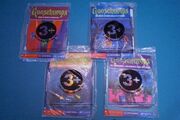 Four flat paper activity books or games were made:
Taco Bell (2009)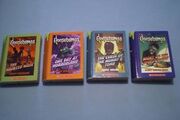 To promote the new reprint editions, four activity books were made based on the following books:
Pizza Hut (1997)
One of three total Glow and Tell Story Cards are given to customers who buy a Pizza Hut Kids Pack [1]. The Kids Pack also came with a Goosebumps cup.
Glow & Tell Card #1 - Curly
Glow & Tell Card #2 - The Abominable Snowman 
Glow & Tell Card #3 - The Scarecrow
Keep your friends spellbound! Read them the terrifying tales on every creepy card - even make up your own endings! Project scary shapes on any dark wall! Then play the GOOSEBUMPS Bone Yard Board Game!
One available every other weeek with the purchase of a Kids' Pack! Includes Personal Pan Pizza and 16 oz soft drink. Get your Glow & Tell Cards while supplies last between April 28 and June 22.
Wendy's (2006)
A Wendy's Family DVD game for Goosebumps, called the 'What's Different Challenge' was made, as part of the 'Family DVD game' series.
Del Taco (2015)
To promote the Goosebumps movie, four Del Taco Meal Bags were produced.
Community content is available under
CC-BY-SA
unless otherwise noted.