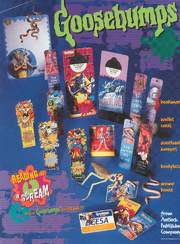 Goosebumps received its own line of merchandise in 1996. The main mascot of the line was Curly the Skeleton, who was also the mascot of the Tales to Give You Goosebumps book series. However, he received a major redesign. Curly was given red eyes, a Mohawk (sometimes with a pony-tail), glasses, and a red scarf. There were other mascots as well, such as Cuddles the Hamster, Prince Khor-Ru, Slappy the Dummy, the Mud Monster and a HorrorLand Horror.
Fan Clubs and Collectors Clubs
Full Article: Goosebumps Fan Club and Collectors Club
Apparel and Accessories
Goosebumps apparel included T-shirts, hats, socks, shoes, slippers, gloves, sunglasses, scarves, shorts, boxers, wristwatches, pins, and more.
Full article: Goosebumps (franchise)/Merchandise/Apparel
T-Shirts
Full article: Goosebumps (franchise)/Merchandise/Shirts
Fabric
Wallets
Keychains
splat keychain
Screaming keychain from the Goosebumps Collectors Club
Keychain organizer by MGA
Four character key rings by Buy-Rite, Inc. - Cuddles, Abominable Snowman, Shrunken Head, Curly
Set of four key rings and four finger rings by Buy-Rite
Hologram rings, necklaces, and keychains
Finger rings
4 Finger Frights by Buy-Rite - Curly, Abominable Snowman, Cuddles, Shrunken Head
Room accessories
Clocks
For wristwatches see Goosebumps_(franchise)/Merchandise/Apparel#Wristwatches
LCD watch and alarm clock gift set by Nelsonic
Door hangers
Bookstand/Radio
Bookstand/Clock radio by MGA
Bookends
Doorknob covers
Haunted Hand doorknob cover by Play by Play Inc.
Light switch covers
Valance
Valance by Spring Industries
Pillows/Cushions
Three Fright Faces pillows by Play by Play Inc. - Curly, Slappy, Cuddles
Haunted Mask pillow by Creepy Co.
Bedding and blankets
Towels
Toiletries
Tents
Calendars
Full article: Goosebumps Calendars
Four wall calendars were produced from 1995-1998 and two Goosebumps Scare-a-Day daily calendar were made in 1997 and 1998.
Lithographs
Full Gallery: Goosebumps Fan Club and Collectors Club#Gallery Art Lithographs
Freaky Frames
Toys
Goosebumps Collectibles - (action figure collectibles)
Series One: Cuddles, Curly, Prince Khor-Ru, Slappy, the Horror, Mud Monster
Series Two: The Lord High Executioner, Buddy, the Haunted Mask, The Scarecrow Walks at Midnight, The Abominable Snowman of Pasadena, Masked Mutant
Monster Bags - (Build-A-Figures)
Flip Faces
Three from ToyMax - Curly/Mummy, Slappy/Mud Monster, Horror/Cuddles
Stamps
Dread Heads
Scary Squirts
Inksters
Freaky Faces
Four from ToyMax - Cuddles, Curly, Shrunken Head, Mud Monster
Giant Freaky Faces
Four from Canada Games - Slappy, The Haunted Mask, The Horror, Curly
Playsets
Shakin' Creatures
Two from ToyMax - Curly and The Horror
Monster Head Maker
Motion Creatures
Three from Canada Games - Slappy, The Mummy, Curly
Pocket Scream Machines
Misc Audio Toys
Large Scream Machine from SRM
Goosebumps Screamer from Tiger Electronics
Curly/The Haunted Mask Hand held Walkie-Talkies from MGA
Spooky Speakerz
From Panex Consumer Products or Disguise, Inc. - Curly, Prince Khor-Ru, Cuddles, Slappy
Paint Kits
Squishy Toys
Gurglin' Goosebumps Squeeze Balls
Pogs and Tazos
Miscellaneous toys
Games
Board games
Handheld games
Pinball games
Card games
Puzzles
Puzzles (international)
School supplies
Pens
Three Gruesome Pens - Prince Khor-Ru, The Horror, Curly
Fright Writer pen
Pencils
Gruesome Pencils 3-Pack
Five pencil pack
Fan Club pencils
Pencil toppers
Pencil sharpeners
Two pencil sharpeners from Happiness Express Club - Cuddles and The Horror
Battery-operated Barking Ghost pencil sharpener from Happiness Express Club
Three Spooky Sharpeners - Horror, Curly, Cuddles
Pencil holders
Erasers
Five Haunted Erasers from Happiness Express Club - G-splat, Cuddles, Mummy, Gravestone, Curly
Protractors
Two Petrified Protractors - The Haunted Mask and The Hand
Tape dispensers
Glue sticks
Three Gruesome Glue Sticks - Curly, Slappy, and Mummy
Rulers
Two Radical Rulers - Cuddles and Monster
Folders
Ring binders
Index tab dividers
Scissors
Staplers
Compasses
Lock covers
Lunch boxes/Lunch bags
School supply packs and kits
Notebooks and notepads
Three Ghost-it Notes - Mummy, G-splat, Curly
Student planners
Journals and diaries
Memo boards
Bookplates
Posters
Paper book covers
Book Cases
Mousepads/Mouse mats
Lights
Flashlights
Three Goosebumps flashlights - Curly, Cuddles, Mummy
Two flexible flashlights - Haunted Mask and The Horror
Tiger Electronics Sound Effects flashlight
Four pocket flashlights - Eyes, Bug, Spider, Mummy
Nightlights