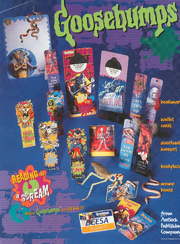 Goosebumps received its own line of merchandise in 1996. The main mascot of the line was Curly the Skeleton, who was also the mascot of the Tales to Give You Goosebumps book series. However, he received a major redesign. Curly was given red eyes, a Mohawk (sometimes with a pony-tail), glasses, and a red scarf. There were other mascots as well, such as Cuddles the Hamster, Prince Khor-Ru, Slappy the Dummy, the Mud Monster and a HorrorLand Horror.
Fan Clubs and Collectors Clubs
Full Article: Goosebumps Fan Club and Collectors Club
Apparel
T-Shirts
Full article: Goosebumps (franchise)/Merchandise/Shirts
Hats
Original Series books
Characters
Other
Socks
Footwear
Fabric
Wallets
Key Chains
Finger Rings
Watches
Enamel Pins
Room Accessories
Door Hangers
Bookstand/Radio
Bookends
Doorknob Covers
Valance
Pillows/Cushions
Towels and Blankets
Tents
Calendars
Four wall calendars were produced from 1995-1998 and two Goosebumps Scare-a-Day daily calendar were made in 1997 and 1998.
Lithographs
Freaky Frames
Toys
Goosebumps Collectibles - (Action Figure Collectibles)
Monster Bags - (Build-A-Figures)
Flip Faces
Stamps
Dread Heads
Scary Squirters
Inksters
Freaky Faces
Microverse Playsets
Shakin' Creatures
Monster Head Maker
Motion Creatures
Pocket Scream Machines
Paint Kits
Squishy Toys
Gurglin' Goosebumps Squeeze Balls
Games
Board Games
Handheld Games
Pinball Games
Card Games
Puzzles
School Supplies
Pens
Pencil Sharpeners
Pencil Holders
Erasers
Protractors
Tape Dispensers
Rulers
Folders/Ring-binders
Scissors
Staplers
Compasses
Lunch Boxes/Lunch Bags
Notebooks and Notepads
Posters
Lights
Flashlights
Nightlights
Book Lights
Book Bags/Backpacks
Stickers and Tattoos
Stickers
Tattoos
Window Decorations
Sports
Bike Headlights
Bike Licenses
Roller Skates
Skateboards
Helmets
Cards
Trading Cards
Main article: Goosebumps trading cards
Glow in the Dark Trading Cards
Greeting Cards
Postcard Books
Bookmarks
Bone-Chilling Bookmarks
Antioch
Goosemarks
Other
Audio
Audiobooks
Sounds of Halloween
Costume Accessories
Costumes
Masks
Party Supplies
Balloons
Plastic Bags
Miscellaneous
Photo Albums
Mugs And Cups
Le Kit
In the French release, Chair de Poule, a special edition kit was released in 2015. It contained a changing zombie face, fake monster teeth, an eyeball ball and a mini-monster guide featuring information on various Goosebumps monsters, recipes and more.
Foods
Packaging
Fast Food Items
Full Article: Goosebumps (franchise)/Merchandise/Fast Food Toys
Props
Slappy Props
In-Book Merchandise
Items included in original series books
Full article: Goosebumps (original series)/Tear-outs
Earlier printings of the Goosebumps original series included extras such as bookmarks, trading cards, metallic stickers, masks, posters, a light switch cover, and more.
Community content is available under
CC-BY-SA
unless otherwise noted.