Attack of the Mutant is a children's first-person PC game based on the twenty-fifth Goosebumps book, Attack of the Mutant by R.L. Stine. It was developed and produced by DreamWorks Interactive and was released in 1997.
Plot
The hero gets off a bus at the wrong stop and finds himself at the headquarters of the Masked Mutant. Within, he must work with comic book superheroes the League of Good Guys to prevent the Masked Mutant and his evil henchmen from transforming the world into a giant comic book.
Characters
Villains
League of Good Guys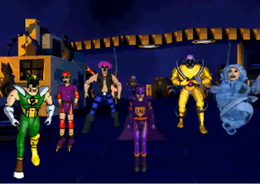 Cast
Gallery
Videos
Trivia
Community content is available under
CC-BY-SA
unless otherwise noted.